Medical Education
It is obvious that surgeons must be good at surgery. However, no one is good from the beginning. How do surgeons improve their skills?
Traditionally, improvement of surgeons' skills relied on the so-called apprenticeship system, which was not systemically constructed. If you are instructed by an enthusiastic senior and gain a lot of experience in a hospital with many cases, you will become a good surgeon in a few years. This was the typical way to build a career. However, non-systemic instruction might cause a wide difference in surgeons' skills, which should be a big problem for the patients, especially those who undergo "major" life-threatening surgery. In departments such as cardiac surgery and brain surgery where small mistakes cause major complications, the training methodology for young surgeons has been discussed.
What about a vascular surgeon? Most vascular surgeons practice general surgery, especially gastrointestinal surgery. The vascular procedures performed by young surgeons are sometimes relatively easy and have a low risk of major complications, such as arteriovenous shunt creation, high ligation, and varicocelectomy for varicose veins of the lower extremity. Therefore, young vascular surgeons can accumulate experience step by step from lower to higher difficulty surgery.
However, the construction of a "training system for young surgeons" as a social demand is an urgent issue. In 2017, the Japanese Board of Cardiovascular Surgery decided that Off the Job Training must be conducted for 30 hours as a condition for applying for the specialty.
Off the Job Training (Off-JT)
The Off-JT Committee was established at the Japanese Society for Vascular Surgery, and our department has been involved. Our idea is that if we do it as training, we should get evidence.
We decided to recruit medical students, residents, young surgeons, and even skilled surgeons and evaluated the results using our training system. This is a simple and inexpensive setting that is mostly purchased at 100-yen shops, which is usually used in any institute. However, surgical needle threads and grafts are expensive. If you register for this study, you can train with them for free.
Participants with a doctor's license will be given a certificate according to the training time. (★Sample)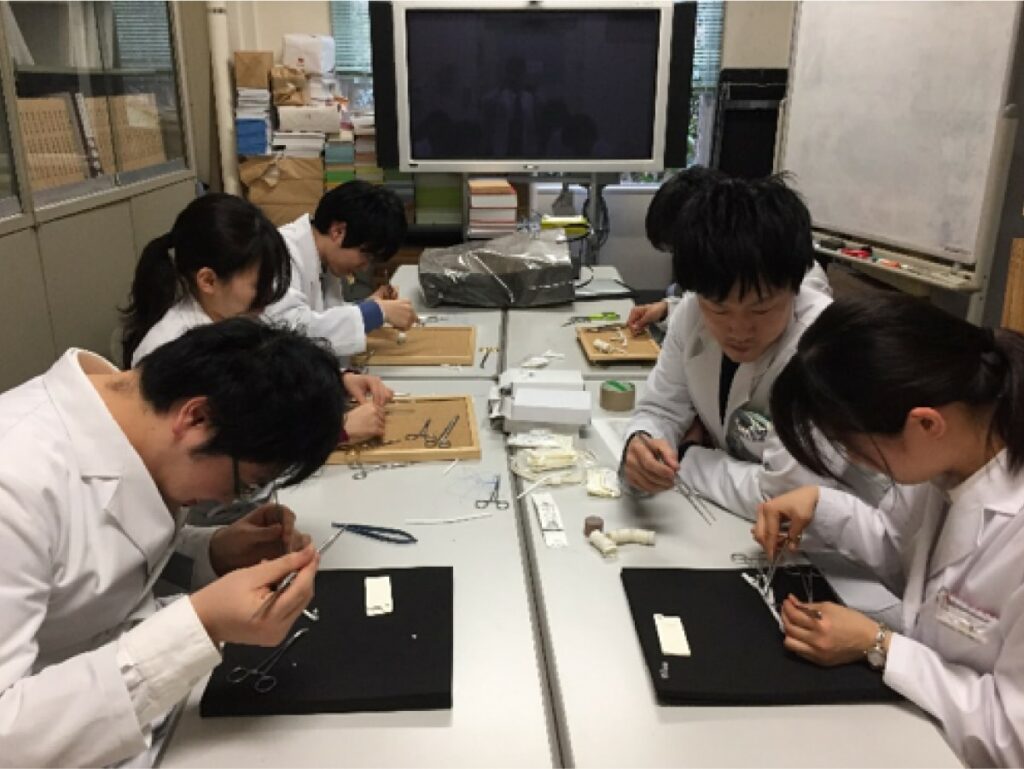 These videos demonstrate our Off-JT method. These are posted on the homepage of the Japanese Society for Vascular Surgery and regarded as a model case of the Off-JT system.
Career Path (in Japanese)
血管外科医への道は大学によって異なります。当科の平均的なパスについては下記のようになっています。正直なところ今までは、初期研修のころから血管外科志望であった者はほとんどいませんでした。最近は血管外科が認知され一部で高い人気を博しておりますので、前期外勤で志望してくれる若手外科医も増えてきました。しかしほとんどは一般・消化器外科を経験した後、6年目に大学で「うっかり」血管外科に入ってしまいます。
うっかり、と書きましたが血管外科に入って後悔した者はほとんどいません。大学院生以降は、結婚をして子供ができたり、人生に疲れたり、いろいろあります。その都度チーフやスタッフにご相談ください。ご家族にとってもより良い選択肢をご提示させていただくよう心がけております。
外科医が滅私奉公をする時代は終わりました。ワークライフバランスを考慮したキャリア、人事。当科の人間に聞いていただければ、納得のいく仕事場であることを体感していただけるでしょう。子供二人のお弁当を毎朝作り続けているチーフがいうのですから、間違いありません。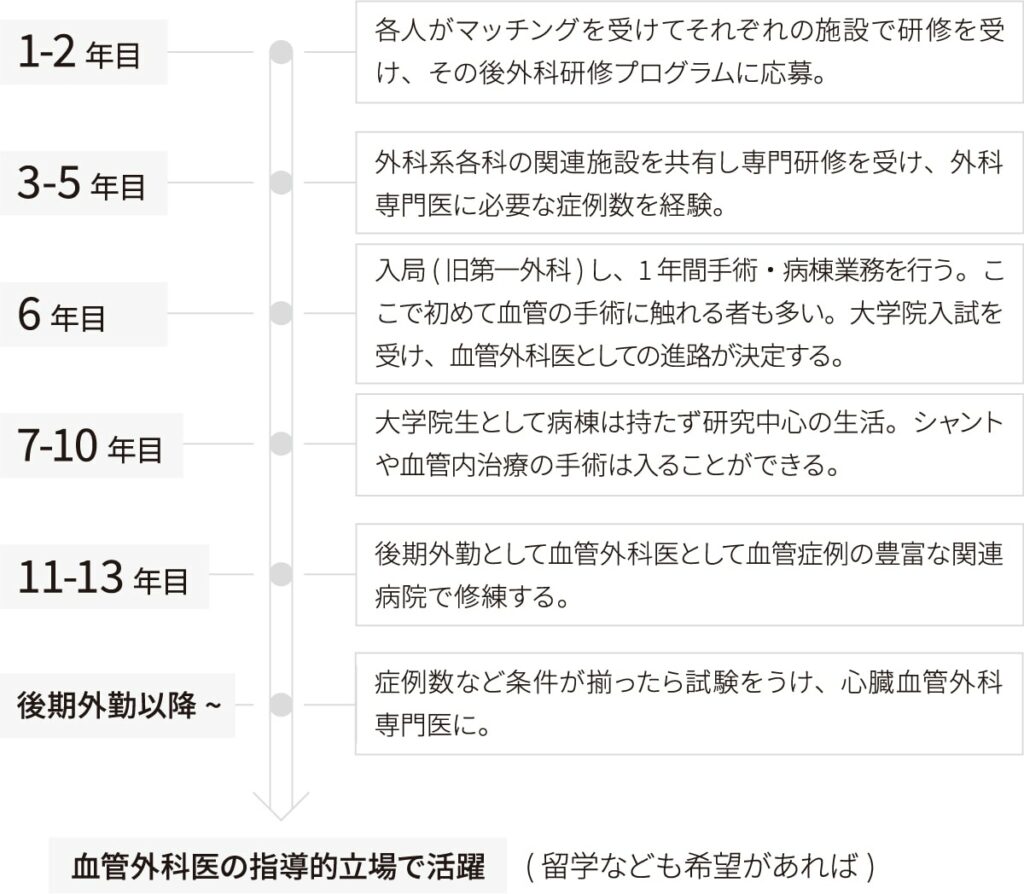 *旧第一外科(大腸肛門外科・血管外科)入局に至るまでの研修については、こちらをご覧ください。
東京大学外科全体の研修紹介のHPはこちらです。
Vascular Board Review (Clinical conference) of The University of Tokyo
The vascular board review of The University of Tokyo is held twice a year. The chief (Dr. Hoshina) invites vascular surgeons from affiliated hospitals, medical physicians, vascular nurses, and medical students. During the conference, they report cases operated in their own institutes and discuss them, including the treatment strategy. As the field of vascular surgery is wide and the selection and combination of treatments vary widely, a controversy usually creates a sensation. Dr. Osamu Sato and Dr. Tetsuro Miyata, the legends of vascular surgery in Japan, always attend the conference and give us useful comments and advice, which are exciting and educational for young surgeons.
For young doctors and medical students:
Please attend the conference if you are interested. If you email us (vasculartodai@gmail.com) in advance, the staff in our department will guide you on the day. The secretary of our department prepares various types of confectionary, juice, and coffee. Please enjoy!
Studying abroad (in Japanese)
当科からの留学は、主に後期研修後に希望があれば行くという選択肢があります。その年齢になると結婚してお子さんがいることもあるでしょうし、行ってみたいけれど臨床のブランクができてしまう、など、さまざまに揺れます。当科の一部医師の体験談を下記に簡単にお示ししますので、もしご興味があれば詳細を直接お聞きになってもいいですし(症例検討会の後の納涼会・忘年会や、学生さんであればクリニカルクラークシップの時など)、当科チーフにお問合せいただいても結構です。