Treatment for thoracic aortic aneurysm
What is a thoracic aortic aneurysm?
The thoracic aorta is usually < 3 cm in diameter and surgery is indicated when it is enlarged to approximately 6 cm (Fig. 1: guidelines for diagnosis and treatment of aortic aneurysm and aortic dissection [JCS 2011]; digest version). Unlike the abdomen (AAA), the pathogenesis of thoracic aortic aneurysms frequently includes aortic dissection as well as arteriosclerosis. It is unclear whether surgery is to prevent rupture of the aneurysm, aortic enlargement or malperfusion due to dissection. Therefore, there is less reliable big data compared to that for AAA.

Treatment of thoracic aortic aneurysm
Thoracic aortic aneurysms are usually treated with open thoracic surgery or stent grafts. What makes the treatment difficult is the arterial branches toward the brain (brachiocephalic artery, carotid artery, and subclavian artery). If the aneurysm lesion includes the branches, bypass surgery should be done to preserve the blood flow to the brain. In open surgery, it is called branch reconstruction, and in stent graft treatment, it is called a debranch or hybrid (Figure 2).
Thoracic endovascular aortic repair (TEVAR), which is a stent graft treatment for the thoracic aorta, basically uses a straight tube, unlike the bifurcated stent graft for the AAA; therefore, the operative procedure is simple. The operative time might be < 1 h. However, because the devices are larger than those for abdominal aortic aneurysms, it is sometimes difficult to deliver the devices to the thoracic area through atherosclerotic and stenotic iliac arteries, which can cause vascular damage. In addition, new aortic dissection can occur during device delivery through the atherosclerotic- and dissection-based aorta. In addition, procedures around the orifices of aortic branches to the brain might cause stroke, and lengthy obstruction of the thoracic aorta might cause cerebral infarction and spinal cord paralysis. The TEVAR procedure carries a risk of such severe complications.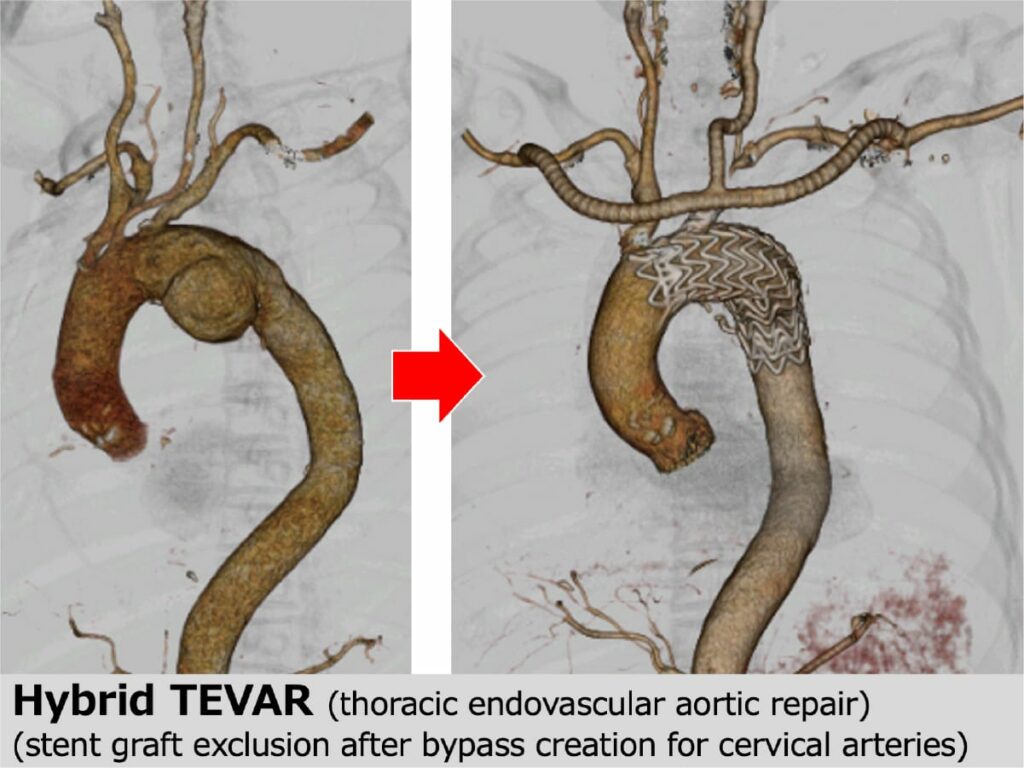 Outcomes of TEVAR and our policy
There is a report from the Japanese Committee for Stent Graft Management (JACSM), a registry that covers all stent graft data in Japan. The chief of our department (Hoshina K), who is the JACSM data manager, analyzed part of the data (16,384 cases) in 2019.
What we learned from this analysis
The outcomes in Japan were good (the in-hospital mortality rate including emergencies was 3.6%).
The prognosis for emergency surgery was poor (mortality: 14.4%), but better than data from other countries.
The prognosis of hybrid surgery was poor (7.5% mortality), and there were many cases of cerebral infarction (11.5%).
Based on these facts, we believe that stent grafts are suitable for descending thoracic aortic aneurysms, and open surgery is suitable for arch and ascending aortic aneurysms. Since cardiac surgeons perform open surgery at our hospital, we introduce patients with arch and ascending thoracic aortic aneurysms to them. When TEVAR was introduced, all TEVAR procedures were performed in our department because there were no surgeons from JACSM to provide supervision in the Department of Cardiac Surgery; however, lecturer Haruo Yamauchi in the department qualified to provide supervision and is now in charge of TEVAR. In difficult cases, both departments jointly perform the TEVAR procedure to achieve the best performance.